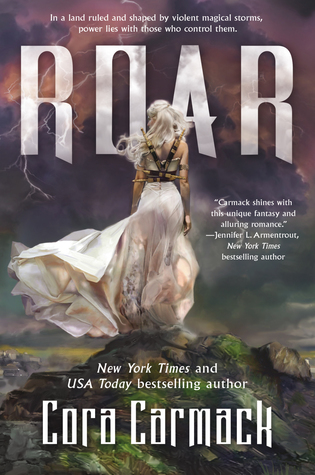 Genre: YA Fantasy
Medium: Audible and Kindle
Rating: 4.5/5 Stars
FROM THE BACK COVER:
In a land ruled and shaped by violent magical storms, power lies with those who control them.
Aurora Pavan comes from one of the oldest Stormling families in existence. Long ago, the ungifted pledged fealty and service to her family in exchange for safe haven, and a kingdom was carved out from the wildlands and sustained by magic capable of repelling the world's deadliest foes. As the sole heir of Pavan, Aurora's been groomed to be the perfect queen. She's intelligent and brave and honorable. But she's yet to show any trace of the magic she'll need to protect her people.
To keep her secret and save her crown, Aurora's mother arranges for her to marry a dark and brooding Stormling prince from another kingdom. At first, the prince seems like the perfect solution to all her problems. He'll guarantee her spot as the next queen and be the champion her people need to remain safe. But the more secrets Aurora uncovers about him, the more a future with him frightens her. When she dons a disguise and sneaks out of the palace one night to spy on him, she stumbles upon a black market dealing in the very thing she lacks—storm magic. And the people selling it? They're not Stormlings. They're storm hunters.
Legend says that her ancestors first gained their magic by facing a storm and stealing part of its essence. And when a handsome young storm hunter reveals he was born without magic, but possesses it now, Aurora realizes there's a third option for her future besides ruin or marriage.
She might not have magic now, but she can steal it if she's brave enough.
Challenge a tempest. Survive it. And you become its master.
MY THOUGHTS:
Okay, the world-building in ROAR is really cool. Princess Aurora (Roar) lives in a world where magic is alive and gifted people (called Stormlings) can harness and then use the powers found at the hearts of storms. There are different types of storms – fire, skyfire, thunder, wind, fog, and twisters – and the monarchy is responsible for quelling storms before they destroy their cities and kill their people. The problem is, even though Roar is set to inherit her powerful mother's throne, she has no magical abilities. What's worse is that she has to keep this a secret, and the only way to protect her throne is to go through with an arranged marriage to Cassius, a prince from a nearby kingdom (whose father is quite dubious, I might add).
But Roar doesn't want that life for herself, so she escapes one night and meets a mysterious, orphaned young stormcatcher named Locke. Before she realizes it, she's thrown into the back-alley world of black market magic (that she didn't even know existed) and the people who hunt  storms for a living. Initially driven by the selfish motive to escape her impending wedding, she soon discovers a world far beyond her imagination and realizes that her responsibilities haven't gone a way – they've actually intensified.
I started this audiobook while in the car on a road trip and quickly feel deep into the story. The narrator did a fantastic job and pulled me right in. Additionally, I loved the world-building in this story. The originality of harnessing storm power and collecting stormhearts is refreshing and not something I've seen before. Storms that have souls? Clever!
Roar's character is well-rounded (albeit a bit immature sometimes) and grows throughout the entire story as she learns more about who she is and what her gifts are. I even enjoyed the slow-building romance between her and Locke. It evolves naturally, and it isn't "instalove" that sends her into a state of foolishness. However, I did not like the possessiveness that he showed. He practically becomes obsessed with her, which is not good, especially since we can see inside his head as he inches towards questionable territory when the story flips to his point of view. Their verbal sparring matches also got old. But kuddos to Roar, because she would push him off and tell him off when he became too much of a dolt to recognize her for who she is – not just someone far more powerful and important than he wants to believe, but a woman worthy of respect, pure and simple.
I have very high hopes for the second book in this series, which releases in June of 2018. I look forward to seeing how Roar's relationship with Locke develops (and if she sets him straight on his possessiveness), what happens to the kingdom now that she's been away and things have taken an ominous twist by an outside force, and what happens with Cassius, Roar's intended.